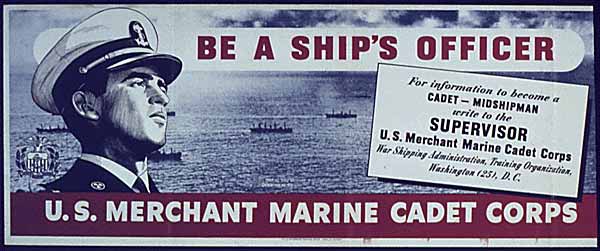 Poster art via World War II Posters: Merchant Marine Training or return to sea (Part 2)
Merchant Marine an important part of U.S. efforts during World War II
By Sarah Sutschek, The Northwest Herald
Speaking to a group of about 30 people, Len Buresh asked how many had heard of the Merchant Marine.
Only three.
The U.S. Maritime Service was established in 1938 to train men for the U.S. Merchant Marine, which serves as a naval or military auxiliary in a time of war or national emergency.
"We deliver all the supplies for all the soldiers, the Navy, and the Marines," said 90-year-old Buresh, who lives in Fox River Grove. "We're the lifeblood. We're the auxiliary to everybody."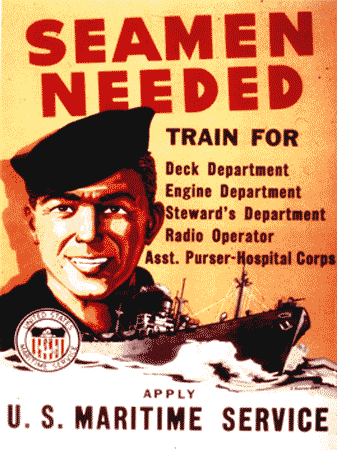 About 225,000 people served in the Merchant Marine during World War II, said Josh Smith of the American Merchant Marine Museum. More than 9,000 were killed, but it's often called a forgotten branch.
Mariners serving during World War II were not given veteran status until 1988.
"You still worked for a private company, but the companies were working for the country," Smith said. "The regular military resented that a lot of the men were union members and didn't necessarily like the politics."
The issue came up in the middle of the first Truman administration, which also was about when the Red Scare was starting to get its feet, Smith said.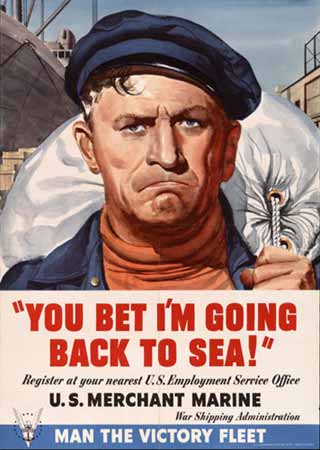 "The feeling was always that [President Franklin D.] Roosevelt was in favor of granting veteran status, but then he died," Smith said. "The Merchant Mariners are some of the victims of that."
The U.S. Merchant Marine Academy in Kings Point, N.Y., continues to recruit today. Buresh joined in 1942, when he was 23 years old.
"All my buddies were gone, already some had been killed, so I decided I had to do my part," Buresh said.
Buresh served as a chief radio officer, and his trips included three to the United Kingdom.
"On the third trip, we were sitting on 8,500 tons of bombs," Buresh said. "It was the worst trip ... with the fog you couldn't see your hand in front of your face."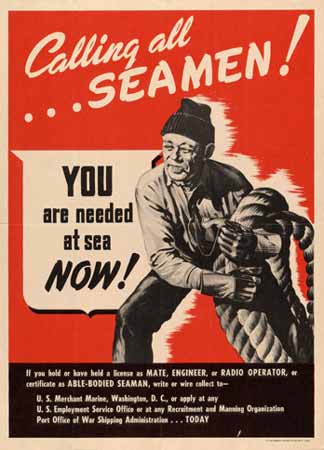 Warnings sometimes were issued regarding nearby submarines. A misinterpreted code could separate his ship from the convoy, subjecting it to attack.
It was a dangerous job, Buresh said.
"The whole ship would shiver," he said. "I was standing on the port wing, and one time the water was 50 feet below me, then it was 50 feet above me."
Edwin Stoffel, 83, of McHenry, joined the Merchant Marine in 1944, serving for about two years. His first trip was to France; he washed dishes for about 40 men. He later held jobs in the engine and boiler rooms.
His second trip was to Okinawa on a ship full of 55-gallon barrels of fuel, Stoffel said.
Still, the mariners were considered draft dodgers by many, he said.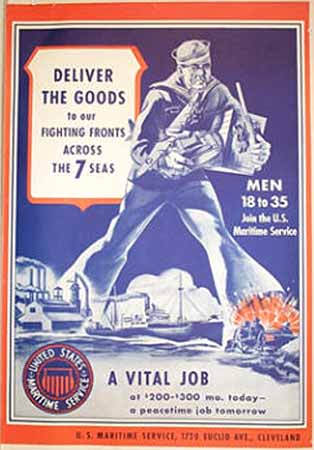 "We had no benefits of any kind at all as far as insurance and stuff, things like that," Stoffel said.
After World War II, Stoffel returned to McHenry and became a sheet metal worker. But in 1950, despite serving with the Merchant Marine, he was drafted into the Army.
Stoffel served about two years during the Korean War and again came home to McHenry, finishing the house he was building with his wife, Anita, before he was drafted.
He still lives in that home and has been married for 59 years.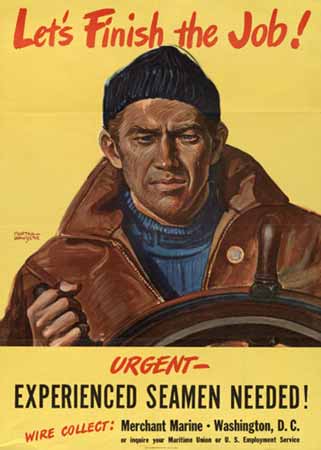 He said it didn't really bother him that his service with the Merchant Marine didn't qualify for veteran status for decades.
Buresh, however, has pushed for proposed legislation that would allow benefits for mariners who served during World War II. He sometimes speaks at schools or for organizations, telling the audience about the importance of the Merchant Marine.
Buresh said he would like just compensation.
"Why they're fighting us, I don't know," he said.
US Merchant Marine Officers - WWII. Photo from National Archives.
Thank you for your service, gentlemen. Fair winds and following seas.