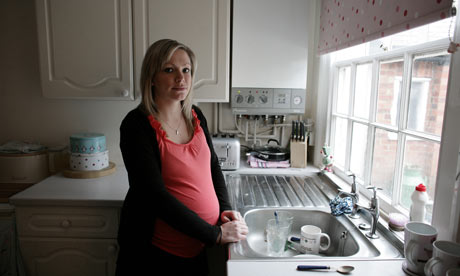 Holly Billen is not alone in resorting to handouts from a food bank near her Wiltshire home in order to preserve money to pay fuel bills. Photograph: Martin Godwin.
Excerpt from article by Paul Lewis, The Guardian, h/t: collapsemovie
Holly Billen sat perched on the edge of her sofa, holding the bump of her unborn child and nervously biting her lip. "It's nothing to be proud of to say you don't have the money to feed yourself," she said. "But I'm not ashamed to say it."
Aged 26 and eight months pregnant, she has had to endure most prolonged ­cold snap in her lifetime. The soaring ­heating costs mean the choice between going cold or going hungry has become a daily dilemma.
Food is sacrificed for warmth in her terraced cottage in Wilton, Wiltshire, not least because her eight-year-old son, Brandon, has contracted a succession of colds. "I've felt really bad some nights," she said. "He's in bed, and really cold. But there's no money for the extra heat. So its extra blankets and socks and vests under pyjamas."
Recently, she turned to a less conventional remedy for the sub-zero temperatures. Completely out of money for gas, she took apart a shelf unit to use as fuel in her fireplace. "I figured I needed it more for heat than storage," she said. "My boyfriend came into the garden because he heard me out there with a saw."
It may sound like a story set in the Victorian era, but Billen, a dancer, is not alone. She is among thousands of people who have begun relying on food handouts to free up money to spend on heating during what the Met Office is describing as the longest spell of freezing conditions since December 1981. While some areas had milder weather today, forecasters said fresh snow could arrive by Tuesday.
Four miles from Billen's home, the depot for the largest food bank in the country is feeling the strain. In the cold weather, demand has doubled at the depot, on the outskirts of Salisbury, and the shelves that normally hold fruit juice, sugar and canned meat are nearly empty. -- Continued at The Guardian