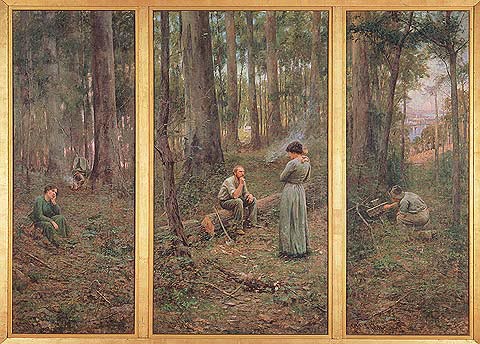 The Pioneer by Frederick McCubbin, 1904, oil on canvas (triptych) via Artist's Footsteps
~ ~ ~
Pioneer Tips
via Homesteading Basics now Vikki's Verandah
If you wish to preserve healthy teeth, clean thoroughly after your last meal or snack of the day.
Never throw away rags just because they look dirty. Mop-rags, lamp-rags and all can be completely washed (use the last of dirty soapy water), then dry and place in a rag-bag. (Yes, it's time to bring back the rag-bag!). If rags are beyond repair or hope, scrape them into lint and use to make felt, or old-fashioned poultices.
If a favorite stark-white item becomes dingy, take it apart and thoroughly clean it. While it is still damp, wash it 2 or 3 times in strong and strained saffron tea (to stain it). You could also use marigold leaves or yellow onion peel to make a "dye". Repeat the applications until the item is the desired color. Put it back together, press it on the wrong side with a warm iron, and there you have it!
Moths will attack your woolens without hesitation. Anything with a very strong spicy smell can keep them away. Just brush out the clothing, pack them in a dark place covered with linen. Sprinkle around pepper, red-cedar chips, tobacco, and even cotton balls with camphor.